Team Rules, Participant Eligibility, and School Size Information
*** NEW FOR 2023 ***
ONLY 2 ATHLETES, PER SCHOOL, "ON THE LINE" AT THE START OF EACH RACE!
Teams may have a maximum of 2 athletes "on the line" at the start of each race! Remaining team members must line up BEHIND their teammates who are positioned on the start line!
Note: Prior to 2023, we allowed schools to have 3 athletes "on the line" at the start of each race.
If an athlete's Middle School does NOT offer Cross Country as a team sport, and they compete during the season for another Middle School, then those athletes may compete as a member of that team. IN ALL OTHER CASES, all individuals on a team must attend (or feed into) the same Indiana middle school…no exceptions!
Varsity Teams consist of 7 athletes. Teams may enter up to a MAXIMUM of ten individuals per team in the Varsity races, if those runners have ALL met the Varsity individual qualifying standard for their division. Top 5 score. Only seven individual trophies are awarded to All-State teams.
No "B" teams are allowed in the same Varsity race.
This is an Indiana Middle School Championship. As such, only student athletes who are enrolled in Grades (5), 6, 7, or 8 in a school located within Indiana's state boundaries may participate in the four Varsity competitions. This includes those who are home-schooled, legally reside in the state of Indiana, and are currently at the (5th), 6th, 7th, or 8th grade level.
If a participant is found to not satisfy the above requirements, they and their team will be disqualified.
Any 3rd, 4th, and 5th grade runners who wish to compete, may participate in the Junior Varsity competitions, provided they have exhibited the ability to finish the 3K distance in a timely and competitive manner. (Parents / Coaches please use discretion when considering this option).
5th grade athletes, who have competed regularly for their Middle School during the regular season, may compete in the Varsity competitions.
Home-schoolers competing for a team must have run for the middle school they're entering with this year.
Runners entered in JV races serve as alternates.
Small School = 425 or less in grades 7&8 combined enrollment.
Big School = over 425 in grades 7&8 combined enrollment.
Small Schools can "move up" and compete in the Big School Races!
Big Schools may NOT "move down" and compete in the Small School Races!
---
General Course Information
Course information, including fees and practice time access, may be found at the following link:
Course Map / Timing / Finish Line
All middle school races are 3000 meters. Races are chip-timed (all chips start with gun), and finish line services are provided by Mike Dason.
---
Protest Policy
Due to concerns voiced in past years, we have instituted a Protest Policy for any coach who feels compelled to challenge a school's size division entry. Any challenge must be presented in the following manner:
The challenge must be made in writing to Club Co-Directors Kelly Wire or Matt Wire at least two hours before the start of the meet (start time of the first race).
The challenging coach must include a basis for the challenge.
The event organizers will handle any protests according to the full policy*.
*Full Protest Policy: Following the submission of the challenge, one of the aforementioned club representatives will phone or approach the challenged coach and ask him/her to verify their submitted 7th and 8th grade combined enrollment numbers during the stipulated timeframe. If the coach indicates their enrollment to be 425 or less within the aforementioned timeframe, we will take his/her word and request the principal to send us a letter verifying the enrollment as having met our qualifications. If time allows, this will be required prior to meet day.
We will not change awards once they have been awarded (due to an enrollment challenge), but if verified prior to the awards ceremony, we will disqualify any school that competes in the incorrect race. If Indiana All Star Running Club does not receive the requested letter from the challenged school's principal confirming "small school" status within 30 days of the meet, we will request the school submit a letter from their school principal confirming small school status prior to allowing registration for future meets.
---
Event Sanctioning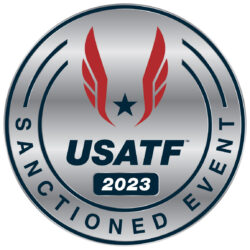 This event is sanctioned by and insured by USA Track & Field.